NEIL HANNON
R E P O R T S
Divine Comedy frontman Neil Hannon reports...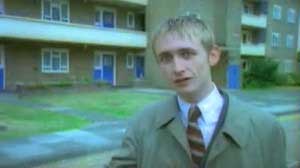 "I'm in Dudley, where a group of guerilla rebels are on the warpath, demanding independence for Dudley, West Bromwich and Stourbridge. The rebels, led by former T.V. weathergirl Wincey Willis, and including Jeremy Spake and Robert Kilroy Silk among their number, call themselves the D.R.A.: the Dudley Republican Army, although they are known locally as 'Wincey's Angels'. Already today, one band of rebels has stormed a Kwik Save store in Wombourne, armed with jars of pickled eggs and an oven ready turkey each, causing several pounds' worth of damage. A spokesman for the group, known only as 'Scrattock', told me "we shall not rest until we have secured independence for Dudley. The British Government have been bleeding our country dry for centuries, giving nothing in return. Dudley is at the centre of the earth, you know." For their part, the government are locked in talks with Willis and her negotiators, and one senior source, who couldn't be named until the government said so, told me that these talks were at an advanced stage - the only stumbling block being whether the rebels would be willing to take Wolverhampton, too.
Rumours that the Dudley rebels may have a cache of weapons of mass destruction, or 'weapons of mass improvement', as they are known in the West Midlands, so far appear to be unfounded, although D.C.I Fred Bollocktender from Stourbridge CID told me that the group have sourced a 'substantial amount' of Bird's custard from a dealer in the Merseyside area, which it is feared may be used in terrorist attacks on Birmingham.
Former Ugandan dictator Idi Amin, who lastyear attempted to declare the Independent Republic of Twemlowstan in a park in Clacton, took time out from filming his new Channel 5 show, 'The World's Wackiest Car Chase Videos Involving a Fascist Dictator', to offer these words of support to the DRA: "You go, fellas. I can't wait until I can go on my hols to Dudley, the fascist capital of the globe. Can I have my fee now?"
This is not the first contraversial move involving Willis: last October she was charged with mass genocide and 6 counts of illegal parking after boring people to death on her 'Wincey's Wonders' lecture tour, in which she discussed the merits of various brands of trouser press, and was only released after offering sexual favours to 57 police officers. She has also recently been sentenced to 12 months watching 'and Audience with Richard Whitely' for aggravated goat parading, after a goat-chasing spree lasting 14 days around the streets of Bristol.
Although the government is willing to talk to the rebels, privately there is concern that other regions of Britain could follow suit, including some that actually would be a loss to the nation. There is already unrest in Bognor Regis, where the militant Bognor W.I. have been threatening to publish a nude calendar if their demands for devolution aren't met, and a group calling themselves the Keith Chegwin fan club have established a military base in Chorlton-cum-Hardy.
Neil Hannon, for Twemlow Head News, Dduley."
ANDY'S BOTTOM 5
My 5 worst... FILMS
5. THE MUMMY
Archaeological romp with dodgy effects, worse acting, and the most diabolical dialogue I've ever had the misfortune to hear. Its all very well, though seldom funny, to have the valiant hero in a film give a pithy line when in perilous danger... think Gimli and Legolas counting how many Orcs they've killed, etc. It's most definitely NOT funny to have John Hannah saying 'jolly good shot, old boy' in a particularly bad english accent, every time an ancient foe is thwarted. What's more, someone should inform the American fools that an educated, well-spoken, female archaeologist in the 1920s would not say 'Oh my God' every 37 seconds. Whoever scripted this lousy turkey of a film should be tied to a telegraph pole and pelted with rotten fruit for evermore.
4. WHAT LIES BENEATH
Ask Chris about this dire, dire film, and she'll tell you it's great. Ask Nikki, and she'll tell you it doesn't know what it wants to be. If you ask me, it's one of the most diabolical things I've ever seen. It knows what it wants to be alright, a disturbing psychological thriller. What it is though is a deeply disturbing psychological 3 days of tedium. Harrison Ford stars as the bad guy, and spends approximately 13 days trying, without success, to persuade us all he can act. The film starts as a bog-standard, made-for-tv film about some bint who needs shooting. This followed by at least an hour of attempted constantly bungled killing, with an ending which I can't even remember because I'd fallen asleep by this time. Truly awful.
3. MISSION IMPOSSIBLE 2
Tom Cruise looks cool in face of adversity. Drives around like a controlled loony for a bit. Given silly mission. In trying to complete mission, embarks on the longest foot/car/bike/hovercraft/camel chase scene I've ever had the misfortune to sit through. I think it was about 96 minutes long. The End.
THROW ME A FRIKKIN' PLOT HERE!
2. ANYTHING WITH NICHOLAS CAGE IN IT
Nicholas Cage is a confused bunny. At least that what it looks like. Makes Mel Gibson's character in Signs look positively self-assured. "Nick, look happy!", shouts the director. Nick looks confused. "Nick, look a bit more sultry!" Confusion. "Nick, you're supposed to be dying!" Nick doesn't understand. Not only is he obviously dim, he sounds it, too. Special mention goes to Gone in Sixty Seconds, which is totally devoid of plot and is roughly akin to one of those 'Jeremy Clarkson Car Smashes Vol. 7' type videos. About the only thing going for it is that it gave the exceptionally talentless Vinny Jones a non-speaking role.
And yes, kids, you guessed it! At number 1...
SIGNS
Further recycled from "...it should be banned!"
How anyone rates this diabolical film I'll never know. "Daddy, can I have ANOTHER glass of water, because, er..., of some stupid reason... oh yeah, there's a bit of dust in this one, and I don't like dirty water, and the aliens that are going to invade the earth in about 2 hours' time happen to be die if they come into contact with water... oh, and can you go to the shop to get about 14,000 glasses, because it's really important that there's glasses of water everywhere, so that when the aliens arrive we can splash them... no, I know you want to just wash the glass that I've got out and fill it again, but that wouldn't kill the aliens, would it? Anyway, did you hear on the news that it's not going to rain anywhere in the world today? No, not at all! Isn't that great? Yes, I know the planet's mostly made of water, but the aliens only die if you splash them from a tumbler, so make sure you don't use a hose or something. Oh, and they've crossed through time and space to get here, so make sure there's a chair about to stop the door in case they try to open it, because they can't cope with that." Purrrleaase!